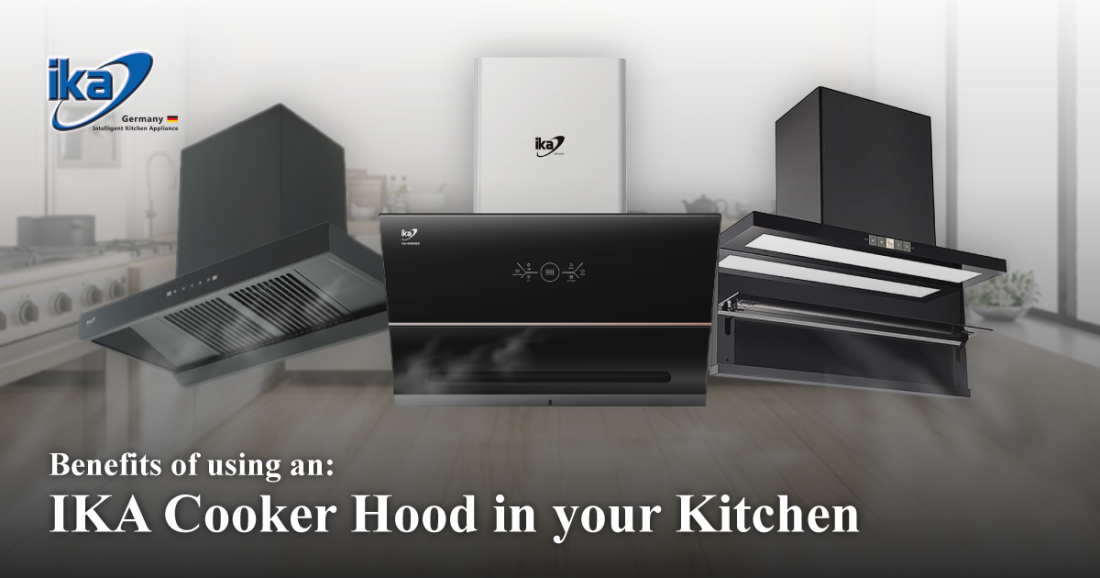 Benefits Of Using an IKA Cooker Hood In your Kitchen
Experience the Benefits of Using an 𝗜𝗞𝗔 𝗖𝗼𝗼𝗸𝗲𝗿 𝗛𝗼𝗼𝗱 in Your Kitchen!
Are you tired of dealing with lingering cooking odors and a greasy kitchen? It's time to bid farewell to traditional exhaust fans and embrace the power and effectiveness of an auto-clean kitchen cooker hood. Say hello to a cleaner, safer, and more delightful cooking environment with 𝗜𝗞𝗔 𝗖𝗼𝗼𝗸𝗲𝗿 𝗛𝗼𝗼𝗱s!
𝗘𝗻𝗵𝗮𝗻𝗰𝗲𝗱 𝗦𝘂𝗰𝘁𝗶𝗼𝗻 𝗣𝗼𝘄𝗲𝗿: Step up your kitchen ventilation game with the remarkable suction power of our cooker hoods. Designed to be more powerful and effective than traditional exhaust fans, our cooker hoods ensure that smoke and odors are swiftly eliminated as soon as they arise. With a minimum suction power of 1200 m3/hr for a 200 sq. ft. kitchen, you can cook in a pollution-free space, free from the discomfort of lingering odors.

𝗞𝗶𝘁𝗰𝗵𝗲𝗻 𝗛𝘆𝗴𝗶𝗲𝗻𝗲 𝗮𝘁 𝗜𝘁𝘀 𝗕𝗲𝘀𝘁: Protect your kitchen walls, ceilings, and precious kitchenware from the notorious grease deposits with an IKA cooker hood. Our innovative designs prevent grease particles from settling, providing utmost safety and saving you from the hassle of intensive kitchen cleaning. Say goodbye to stubborn grease stains and enjoy a sparkling clean kitchen that stays fresh and inviting.

𝗖𝗼𝗺𝗳𝗼𝗿𝘁𝗮𝗯𝗹𝗲 𝗖𝗼𝗼𝗸𝗶𝗻𝗴 𝗘𝗻𝘃𝗶𝗿𝗼𝗻𝗺𝗲𝗻𝘁: Long hours of cooking can lead to a heated and stuffy kitchen. But fear not! Our cooker hoods are here to create a comfortable cooking haven. By swiftly removing the heated air and steam generated during cooking, our hoods keep your kitchen cool and pleasant. Say hello to a more enjoyable cooking experience, free from discomfort caused by trapped heat.

𝗔𝗲𝘀𝘁𝗵𝗲𝘁𝗶𝗰 𝗘𝗹𝗲𝗴𝗮𝗻𝗰𝗲: Not only do our cooker hoods excel in functionality, but they also elevate the visual appeal of your kitchen. With modern curved glass or angular designs, our hoods add a touch of elegance to your cooking space. Whether you have a modular kitchen or are planning to build one, our well-designed cooker hoods seamlessly blend with the interior, enhancing its aesthetic charm.

𝗜𝗹𝗹𝘂𝗺𝗶𝗻𝗮𝘁𝗶𝗻𝗴 𝗬𝗼𝘂𝗿 𝗖𝘂𝗹𝗶𝗻𝗮𝗿𝘆 𝗝𝗼𝘂𝗿𝗻𝗲𝘆: Illuminate your culinary adventures with built-in LED lights featured in our modern cooker hoods. These lights brighten up your cooking space, ensuring optimal visibility while you prepare your favorite dishes. Enjoy a well-lit cooking area that sets the mood and enhances your overall cooking experience.
Discover the unrivaled benefits of using an 𝗜𝗞𝗔 𝗖𝗼𝗼𝗸𝗲𝗿 𝗛𝗼𝗼𝗱 in your kitchen today. Say goodbye to outdated exhaust fans and embrace a cleaner, safer, and more aesthetically pleasing cooking environment. Elevate your culinary experience with 𝗜𝗞𝗔 𝗖𝗼𝗼𝗸𝗲𝗿 𝗛𝗼𝗼𝗱s!