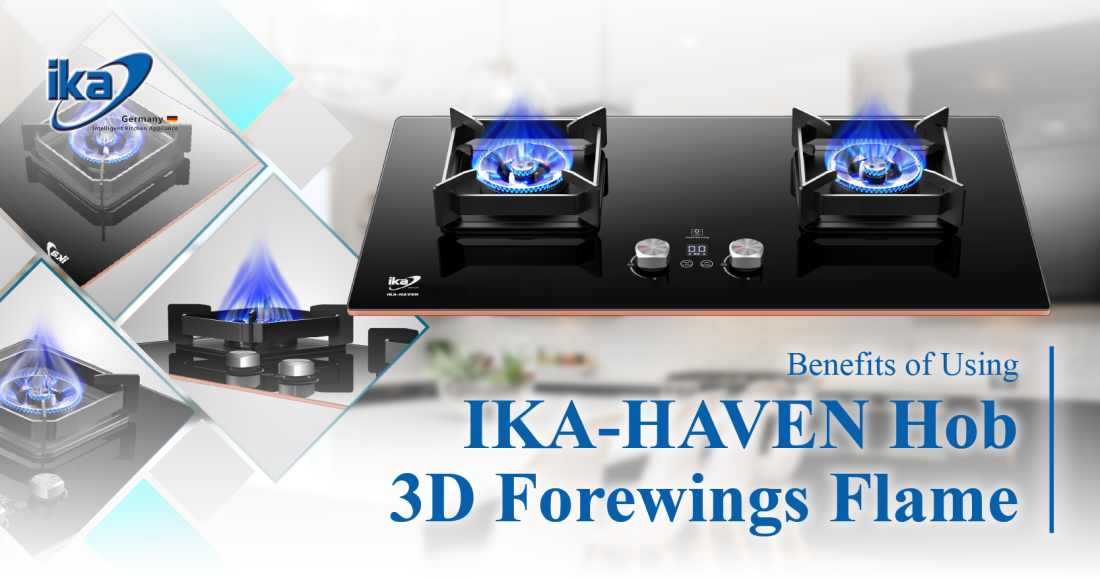 Benefits of Using IKA-HAVEN Hob 3D Forewings Flame
Unlocking the Benefits of the IKA-HAVEN Hob with 3D Forewings Flame
When it comes to cooking, having the right hob can make a significant difference in the quality of your meals and your overall cooking experience. The IKA-HAVEN hob, equipped with a 3D forewings flame, is a game-changer that brings numerous advantages to the table. In this blog post, we'll delve into the benefits of this innovative hob and why it's a must-have for your kitchen.
𝟏. 𝐌𝐨𝐫𝐞 𝐄𝐯𝐞𝐧 𝐇𝐞𝐚𝐭 𝐃𝐢𝐬𝐭𝐫𝐢𝐛𝐮𝐭𝐢𝐨𝐧
One of the standout features of the IKA-HAVEN hob is its 3D forewings flame. This unique flame design ensures that heat is distributed evenly across the entire cooking surface. The result? No more hotspots that cause uneven cooking. Your dishes will cook uniformly, ensuring perfection in every bite.
𝟐. 𝐅𝐚𝐬𝐭𝐞𝐫 𝐂𝐨𝐨𝐤𝐢𝐧𝐠 𝐓𝐢𝐦𝐞𝐬
Thanks to the intense heat generated by the 3D forewings flame, you'll experience significantly reduced cooking times. Say goodbye to long waits in the kitchen. With the IKA-HAVEN hob, your meals will be ready in no time, allowing you to save energy and enjoy more free time.
𝟑. 𝐈𝐦𝐩𝐫𝐨𝐯𝐞𝐝 𝐅𝐥𝐚𝐯𝐨𝐮𝐫
Searing your food quickly is a breeze with the 3D forewings flame. This rapid searing locks in the flavour and juices of your dishes. Whether you're searing meat, sautéing vegetables, or stir-frying, the IKA-HAVEN hob enhances the taste of your culinary creations.
𝟒. 𝐑𝐞𝐝𝐮𝐜𝐞𝐝 𝐑𝐢𝐬𝐤 𝐨𝐟 𝐁𝐮𝐫𝐧𝐢𝐧𝐠
Uneven heat distribution can often lead to burnt or overcooked food. With the IKA-HAVEN hob's even heat distribution, you can say goodbye to charred meals. Enjoy precise control over your cooking and prevent those accidental kitchen mishaps.
𝟓. 𝐌𝐨𝐫𝐞 𝐏𝐫𝐞𝐜𝐢𝐬𝐞 𝐂𝐨𝐨𝐤𝐢𝐧𝐠
The 3D forewings flame allows you to fine-tune your cooking. Adjust the flame intensity to match your specific needs, giving you more control over the cooking process. From gentle simmering to high-heat searing, this hob has you covered.
𝐎𝐭𝐡𝐞𝐫 𝐍𝐨𝐭𝐚𝐛𝐥𝐞 𝐀𝐝𝐯𝐚𝐧𝐭𝐚𝐠𝐞𝐬
In addition to these five key benefits, the IKA-HAVEN hob comes with a range of other advantages:
𝐙𝐞𝐫𝐨-𝐒𝐞𝐜𝐨𝐧𝐝 𝐈𝐠𝐧𝐢𝐭𝐢𝐨𝐧: No more waiting around for your hob to heat up. The IKA-HAVEN ignites instantly, allowing you to start cooking right away.
𝐅𝐥𝐚𝐦𝐞 𝐅𝐚𝐢𝐥𝐮𝐫𝐞 𝐒𝐚𝐟𝐞𝐭𝐲 𝐃𝐞𝐯𝐢𝐜𝐞: Safety is paramount in the kitchen. This hob is equipped with a flame failure safety device that will automatically cut off the gas supply if the flame is accidentally extinguished.
𝐓𝐞𝐦𝐩𝐞𝐫𝐞𝐝 𝐆𝐥𝐚𝐬𝐬 𝐒𝐮𝐫𝐟𝐚𝐜𝐞: The hob features a durable tempered glass surface that's easy to clean and maintain, adding to its overall user-friendliness.
In conclusion, the IKA-HAVEN hob with 3D forewings flame is a high-quality appliance that caters to the needs of modern cooks. Whether you're a professional chef or a passionate home cook, this hob's benefits in heat distribution, cooking speed, flavour enhancement, safety, and precision will elevate your culinary journey. It's a kitchen investment that you won't regret.