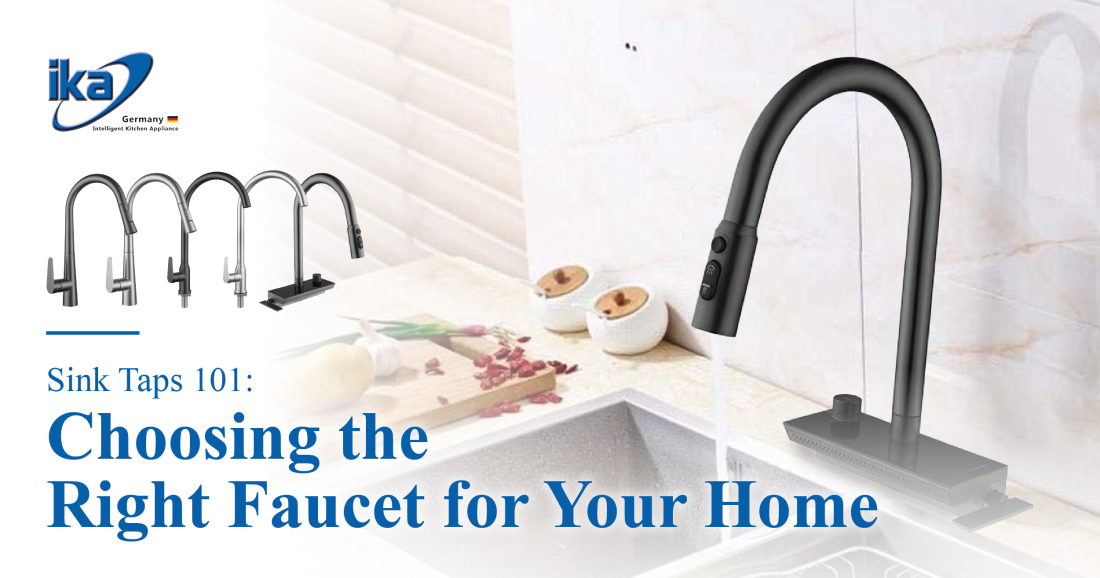 Sink Taps 101: Choosing the Right Faucet for Your Home
When it comes to outfitting your home, it's easy to overlook the importance of a sink tap. After all, it's a seemingly small detail in your kitchen or bathroom. However, choosing the right faucet can significantly impact the functionality, aesthetics, and efficiency of your space. In this Sink Taps 101 guide, we'll explore the key factors to consider when selecting the perfect faucet for your Malaysian home.
𝟏. 𝐒𝐭𝐲𝐥𝐞 𝐚𝐧𝐝 𝐀𝐞𝐬𝐭𝐡𝐞𝐭𝐢𝐜𝐬
Your faucet should not only perform its function but also enhance the overall look of your kitchen or bathroom. Malaysian homes often feature a blend of modern and traditional design elements, so choose a tap that complements your interior style. IKA offers a wide range of sink taps, from sleek and contemporary to timeless and classic, ensuring you find the perfect match for your home.
𝟐. 𝐌𝐚𝐭𝐞𝐫𝐢𝐚𝐥 𝐚𝐧𝐝 𝐃𝐮𝐫𝐚𝐛𝐢𝐥𝐢𝐭𝐲
Considering Malaysia's tropical climate, it's essential to select a faucet made from durable materials that can withstand moisture and heat. Stainless steel, brass, and chrome-plated faucets are excellent choices as they resist corrosion and maintain their luster even in humid conditions. IKA's sink taps are crafted with longevity in mind, ensuring you won't need to worry about wear and tear.
𝟑. 𝐖𝐚𝐭𝐞𝐫 𝐄𝐟𝐟𝐢𝐜𝐢𝐞𝐧𝐜𝐲
Water conservation is increasingly crucial, given the periodic water supply challenges in some regions of Malaysia. Opt for sink taps with efficient flow rates that reduce water wastage without compromising performance. IKA's sink taps are designed to provide optimal water efficiency, contributing to both eco-friendliness and lower water bills.
𝟒. 𝐈𝐧𝐬𝐭𝐚𝐥𝐥𝐚𝐭𝐢𝐨𝐧 𝐚𝐧𝐝 𝐂𝐨𝐦𝐩𝐚𝐭𝐢𝐛𝐢𝐥𝐢𝐭𝐲
Consider the compatibility of your chosen faucet with your existing sink or basin. Make sure it's the right size and has the required number of holes. IKA's sink taps come in various configurations to suit different sink setups, making installation a breeze.
𝟓. 𝐅𝐮𝐧𝐜𝐭𝐢𝐨𝐧𝐚𝐥𝐢𝐭𝐲
Your faucet should be convenient to use. Features like single-handle operation, pull-out sprays, and swiveling spouts can greatly enhance functionality. IKA's sink taps are designed with user convenience in mind, making everyday tasks in the kitchen or bathroom more accessible and efficient.
𝟔. 𝐁𝐮𝐝𝐠𝐞𝐭
Setting a budget is a practical step in choosing the right sink tap for your Malaysian home. IKA offers a range of options that cater to various budgets, ensuring that you can find a quality faucet without breaking the bank.
𝟕. 𝐖𝐚𝐫𝐫𝐚𝐧𝐭𝐲 𝐚𝐧𝐝 𝐀𝐟𝐭𝐞𝐫-𝐒𝐚𝐥𝐞𝐬 𝐒𝐮𝐩𝐩𝐨𝐫𝐭
Always choose a faucet from a reputable brand like IKA that offers a warranty and reliable after-sales support. This provides peace of mind and ensures that you'll receive assistance if any issues arise.
In conclusion, selecting the right sink tap for your Malaysian home involves careful consideration of style, material, water efficiency, compatibility, functionality, budget, and after-sales support. IKA's wide range of sink taps ensures that you can find the perfect faucet that not only meets your needs but also enhances the aesthetics and functionality of your kitchen or bathroom.
To explore IKA's selection of high-quality sink taps and make the right choice for your Malaysian home, please check out our [Sink Taps collection]. Make a lasting and functional addition to your home by choosing the perfect faucet from IKA.