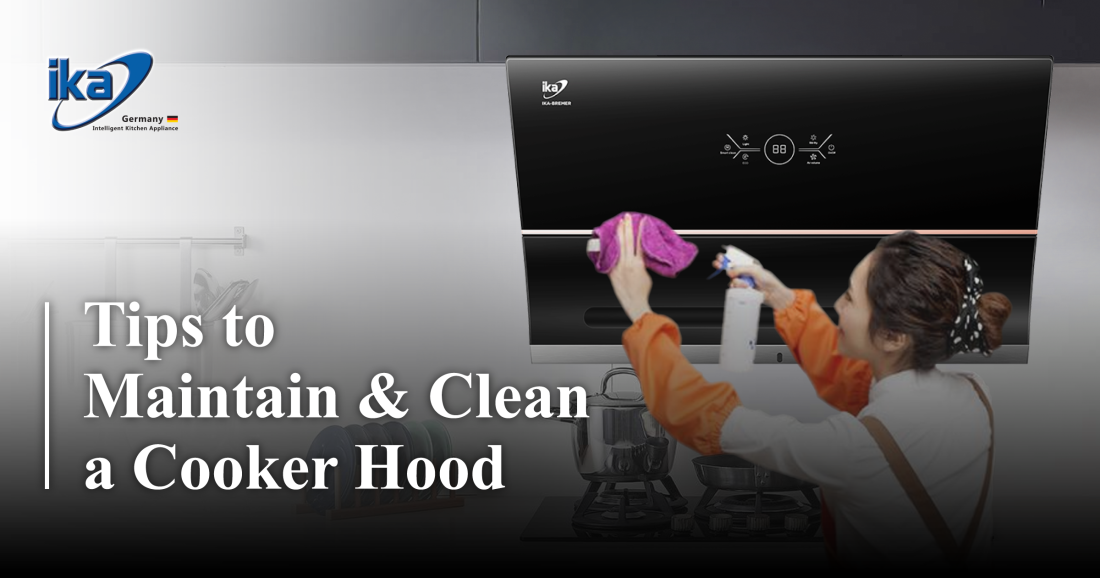 Tips to Maintain and Clean a Cooker Hood
A kitchen cooker hood is an essential appliance that keeps your kitchen free from smoke, odours, and grease. To ensure its optimal performance and longevity, following a few simple tips can make a significant difference. In this blog post, we'll provide you with five essential tips to use your cooker hood properly and maintain it effectively.
1. Maintain the Right Distance:
During installation, ensure that the cooker hood is positioned at a height of 24-30 cm from the stove.
This adequate distance prevents the risk of fire while maximising the chimney's efficiency.
Consider creatively concealing the chimney pipes during installation to enhance the kitchen's aesthetics.
2. Remove Protective Plastic Film:
New cooker hoods often come with a plastic film to protect the body during transit.

However, leaving the plastic film on can cause a reaction with the outer coating, leading to discolouration.
Always remember to remove the plastic film to maintain the cooker hood's appearance and performance.
3. Regularly Clean the Filters:
To ensure the proper functioning of your cooker hood, timely maintenance and cleaning of the filters are essential.
Baffle filter chimneys should have their filters cleaned at least every 3 months.
If your chimney is not performing optimally, always check the filters first.
Consider signing an AMC (Annual Maintenance Contract) with the brand or seeking assistance from a local expert technician for thorough cleaning.
4. Gentle Cleaning for a Shiny Surface:
To preserve the cooker hood's original shine, it's vital to clean the surface properly.
Use a damp cloth to wipe the chimney body and control panel; avoid using abrasive chemicals or harsh soap solutions.
Regular cleaning prevents the buildup of grime and ensures the longevity of your kitchen chimney.
5. Follow the Product Manual:
Despite being familiar with the functioning of the kitchen chimney, never disregard the product manual.

The manual contains valuable information about troubleshooting and maintenance, assisting you when you encounter any issues with the chimney.

Always keep the manual handy for quick reference and proper care of your valuable appliance.

A well-maintained cooker hood not only enhances the ambiance of your kitchen but also ensures a clean and comfortable cooking experience. By following these five essential tips for using and maintaining your kitchen chimney, you can prolong its life and enjoy a smoke-free and odour-free kitchen environment for years to come. Proper installation, regular cleaning, and adherence to the product manual are the keys to making the most of your cooker hood's efficiency and performance.